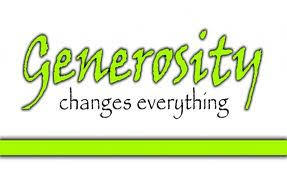 As we are entering Stewardship month, I am particularly thinking about money; saving, spending and donating. The Bible says an awful lot about money. It says that we are to tithe to the Lord. A tithe is a specific measurement, it literally means "a tenth." We are to give a tenth of our income as an offering to God. 'A tithe of everything from the land… belongs to the Lord;' (Lev 27:30). In the New Testament we are encouraged to remember that everything we have comes from God, and because of that we are to cheerfully give back to God. It is my personal practice to consciously think about my donations, it is something that I budget, so that my giving isn't based on what's "left over".
In an effort to make sure that my offering is consistent and regular, I have signed up for the Pre-Authorized Remittance program (PAR). Once a month, money is withdrawn from my account. I know that this way of giving is particularly helpful in maintaining our budget. But this way also helps me. I don't carry cash or cheques anymore and the last thing I want to do is forget my offering.
We live in an almost cashless society. There are apps on our phones that offer us purchasing power, and a virtual wallet, so that we don't even need to carry our cards with us. We can transfer money electronically. I even deposit my paycheque on my phone by taking a picture of it. There are certainly pros and cons of living this way, but it is undeniable that we are living in an astonishing time in the world.
As a congregation, how do we address this new world? When someone visits us, and worships with us, it is highly likely that they do not have any cash, so even if they wanted to give us a donation, they couldn't. We have some barriers that get in the way of receiving money. I think it'll be a while before Augsburg has a phone app, but we do have a donate button on our website. How many of you know that? Could we also have a QR code in our bulletin so people could scan a donation? These are things to ponder.
We are very grateful to those who give the congregation regular cash or cheque donations. Your faithful dedication is truly a blessing.
Whether we give by PAR, cash, cheque or use the donation button on the website, the purpose of giving a regular offering is to teach us about the discipline of generosity. God has been generous with us, so in response, we are generous toward God.
Peace and Blessings,
Pastor Nadine