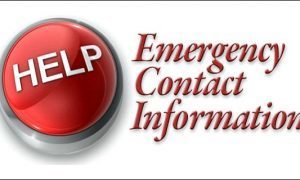 Over the years, occasionally there are times when people need to get in touch with the pastor during an emergency or other immediate need. While this has always been the case, I thought I'd take this month's article to tell you specifically how to connect with me.
The phone number that is in our directory, and on the church voicemail message, is my cell phone number. Give the church office a call first, and if there is no answer and you urgently need to talk with me, please feel free to call me or text me at that number.
I do put my cell phone on 'do not disturb' after 11 pm so text messages do not come through when I'm trying to sleep, but phone calls will. So, in an emergency, please call. I also turn my phone off when I'm in a theatre, in a meeting, when I am visiting with someone else or any other time a ringing phone would be inappropriate. Please leave a message on my voice mail and I will get back to you as soon as I am able.
My days off (my weekend) are Fridays and Saturdays. If you need to talk to me, but it can wait until Sunday, that would be appreciated. However, if you need pastoral care immediately, please do not hesitate to call me anytime, night or day.
Some of the reasons you might call the pastor: You or a loved one is being hospitalized.
You have a life-threatening illness. If it is your wish, I would walk with you through this difficult time to bring God's strength and hope along the way.
A death in the family. When there is a death, I would like to know immediately. I am never "too busy" to bring the comfort of God's love. (I would also appreciate it if you consult with me before the funeral date is set.)
You can also connect with me if good things are happening – a baby is born or a wedding is happening in your family. And, please, if you'd like to meet with me, give the office a call and we can arrange a time. My door is always open.
Cast all your anxiety on God, because God cares for you. (I Peter 5:7)
Peace and Blessings,
Rev. Nadine Nicholds