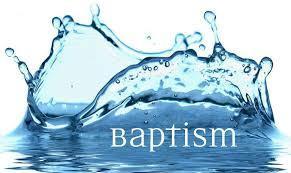 "I …beg you to lead a life worthy of the calling to which you have been called, with all humility and gentleness, with patience, bearing with one another in love, making every effort to maintain the unity of the Spirit in the bond of peace. There is one body and one Spirit, just as you were called to the one hope of your calling, one Lord, one faith, one baptism, one God and Father of all, who is above all and through all and in all." Ephesians 4:1-7
For the past few years, we have been including birthdays and anniversaries in the newsletter so that we might wish our fellow parishioners well on their special day. It being the beginning of 2019, I thought we would change this and remember instead our baptismal anniversaries.
Being a Christian church, it is appropriate for us to remember our baptismal anniversary. On a regular basis we need to remind ourselves of what we have promised to God, who we are as Christians, and what we should be striving for to usher in God's reign.
On your baptismal anniversary, or your child's baptismal anniversary, take a little time, perhaps at mealtime, and light a candle, your baptismal candle if you still have it. Make a sign of the cross on your forehead and remember this: "on this day you/I were washed in the water of baptism. Because of this event you/I never need to doubt that you/I are/am a beautiful and precious child of God." Read the lesson from Ephesians (at the beginning of this article) and say a prayer. This prayer was written by Rev. Daniel Erlander for just such an occasion:
"God of mercy, we give thanks for the promise you made to 'me/name' on this day. Renew in 'me/name' the gift of the Holy Spirit that I/he/she/they will trust in you and you alone through all of life. We pray in Jesus' name. Amen"
It is so amazing to remember that we are God's Children, and in praise and thanksgiving we respond to this precious gift by practicing the values of Christian love; visiting the lonely, feeding the hungry, caring for the earth and respecting the poor, the weak and vulnerable.
Rejoice and be glad, because it is your Baptism day!
Peace and Blessings,
Rev. Nadine Nicholds